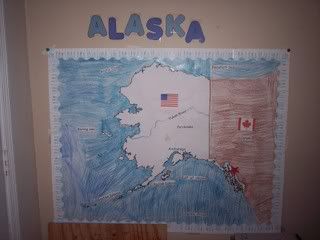 I took a blank map of Alaska to Kinko's and had them make it the size of a poster. They ended up enlarging it by 400%. The kids & I colored in the water & Canada. The kids then labeled the major cities. If you look at the map it reminds me of a bear. Here is a close up of the map.
The kids were very excited to learn that Kodiak Island was a real place. We are listening to
The kids are really enjoying it. I must admit that I cannot wait to find out what happens next. I am looking forward to reading some of the legends of Native Alaska to the kids this week.