This was our first week back from taking it easy in October. We had a great week. We did school everyday! Even if we only did one or two things we did it. This is a huge improvement. One of the kids favorite things that we are doing is reading from
Creation Read-Aloud Stories from Many Lands
. After reading the stories we are comparing them to each other and illustrating a few of them.
These are from
How the World Came From An Egg
a story from China.
These are from an Australian Aboriginal story:
How the World was Lit Up by a Bonfire
.
We starting to reading about different creation myths because of my children having the classic debate of creation vs. the big bang. I was thoroughly enjoying this debate between my children. It led to many different wonderful conversations.
Tracker has started to read 90% of his math word problems on his own!!! He is atleast trying and not just giving up. This is a HUGE step in my opinion. I think that he was just waiting for me not to read them. Silly mommy.(It makes me think of the Trix bunny..Silly Mommy, Reading is for kids. LOL). Tracker has taken off on his math. He has rendered me speechless so many times this week with his ability to get right to work and completely it without the constant..Mommy I need this. Yeah!! That confidence is building.
Squirrel is all about leaves and fall this week. We have read so many books this week on fall.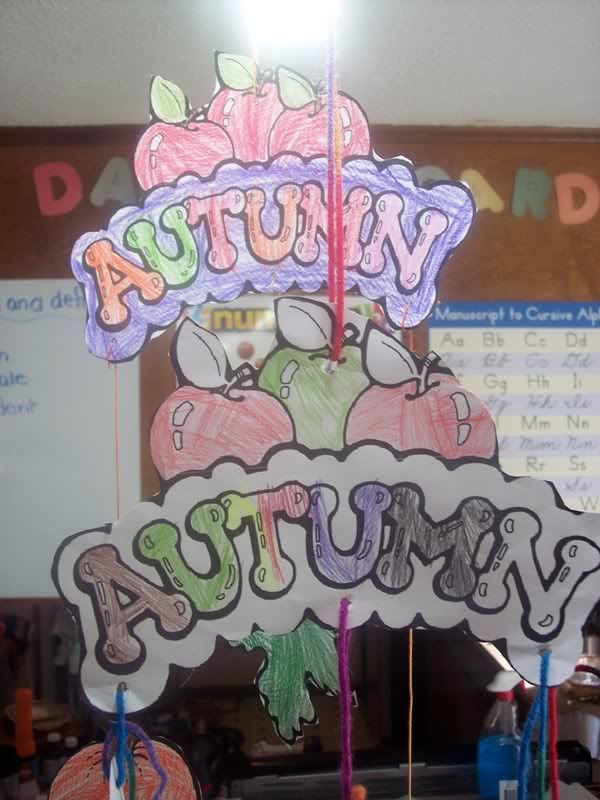 My favorite book that I read was Fletcher and the Falling Leaves. I LOVED this book. The imagery was just amazing. The pictures looked like they were done in oil pastels, so the kids did their own tree pictures from the book. **Pictures to come. I just can't get a good shot of them at the moment.***
Squirrel and Tracker also made squirrels with leaf tails. They are soo cute.(please excuse the thumbtack)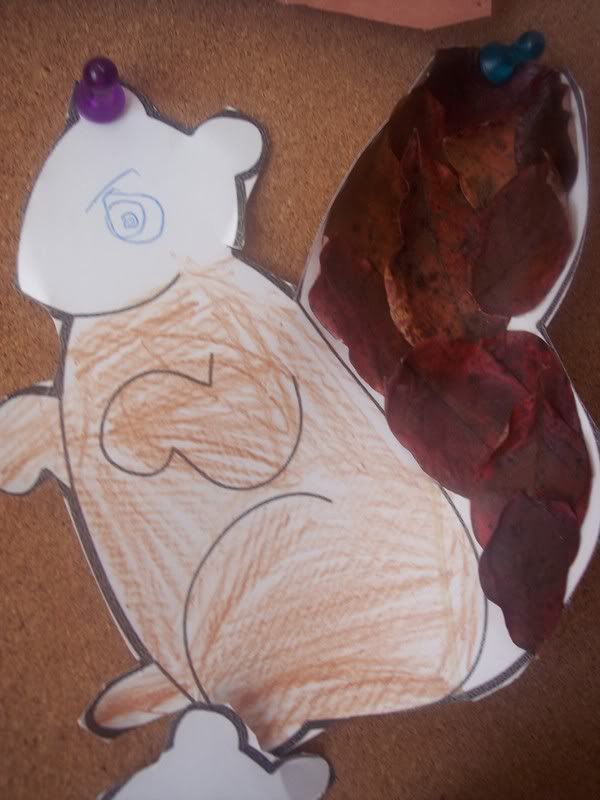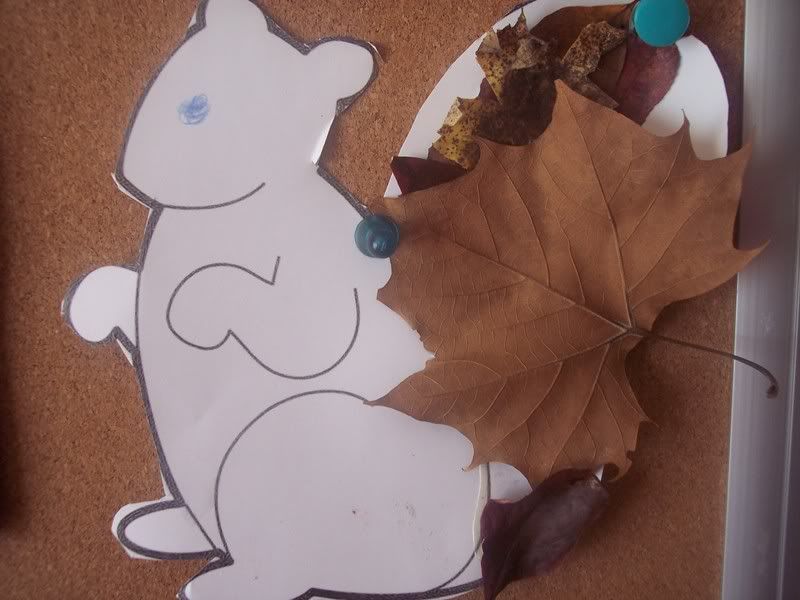 We also studied Presidents this week. We continued with our U.S. History Presidents DVD. The kids stayed up election night to watch some of the results. They were all tired from swimming to stay up very late.
Dragon has been working very hard in his recipe book. He seems to be hard at work all the time trying to create the perfect recipe. He has had the Food Network on 24/7 this week. He gets his inspiration from the chefs. If only I could convince him that he needs to get the basics down first. Hmm, maybe writing a letter to one of his favorite Foodtv stars would help. He has made HUGE improvements in his swimming lessons. He is taking to it like a fish in water. He has been reading the Redwall series again. He has also gone through and given me the thumbs up on all the library books that I have chosen for the week.
We are also listening to the Subtle Knife audio book in the car. We are listening to it quite a bit since we seem to always be on the road.
We finished up the week doing a craft day. The kids seemed to rediscover mandalas. We spent the entire afternoon coloring in some
mandalas
.