Mom Is Teaching
is giving away an awesome
purse
! She wants to know what is in your purse. So here goes...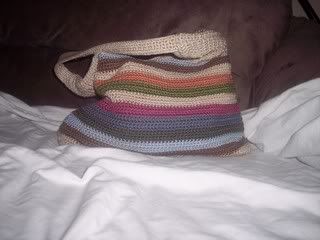 I got my purse at Cato. I love it! It has great colors and is just a fun purse. I am thinking that I
mgiht
need a new one though. This one needs another section. But it was practically free. I had forgotten about a gift certificate that I received as a gift at Christmas. So it was found money that bought it :) I got it because I wanted something smaller than what I was using at the time. Everyone kept handing me stuff to stuff in my purse. I thought that this would be a great alternative.Little did I know that they would make me see just how much junk I could shove into my purse!It doesn't look like it would hold much...
I found out that it can hold more than I thought.
My purse has...
~an emergency inhaler(that I couldn't find the other night for soccer, so I have since replaced it!)
~a first aid box
~ticket stubs and 2
nd
day voucher for
Alligator Adventure
~2 maps for Alligator Adventure
~1brochure for Alligator Adventure
~map of
Barefoot Landing
~2 voided out checks
~pocket calendar
~14 receipts
~subtraction flash card
~2 small memo books
~wallet
~checkbook
~4 pens
~empty eyeglass case
~sunglasses
~
motrin
~hand sanitizer
~eye drops
~my broken knee brace
~$1.19
~1 bag with 3 bracelets that were bought for a friend
~in the
littlepocket
are 1 ring, 2 tampons and 8 temporary tattoos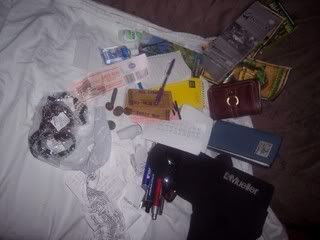 I think that I might just need a new purse. :)